The Umbria Film Festival is heading off in a new direction, rather: it is heading off in a new Art Direction.Our incredible AD, Vanessa Strizzi, has made the decision to take a much-deserved break. She has chosen to pass the baton to two equally extraordinary and talented women.Taking the stage at the 27th Umbria Film Festival are Rachele Parietti and Teresa Mignolli, members of the Uff team for several years. Rachele and Teresa both studied at King's College London, the city in which they live and work. Rachele recently assumed the position of Distribution Officer at the National Theatre of London, while Teresa earlier this year became a Distribution Officer for MUBI. They are both family to us, but we thought we would make them better known to you, who follow us every year.
Are you excited about this assignment?
It is not for everyone to direct such a young festival!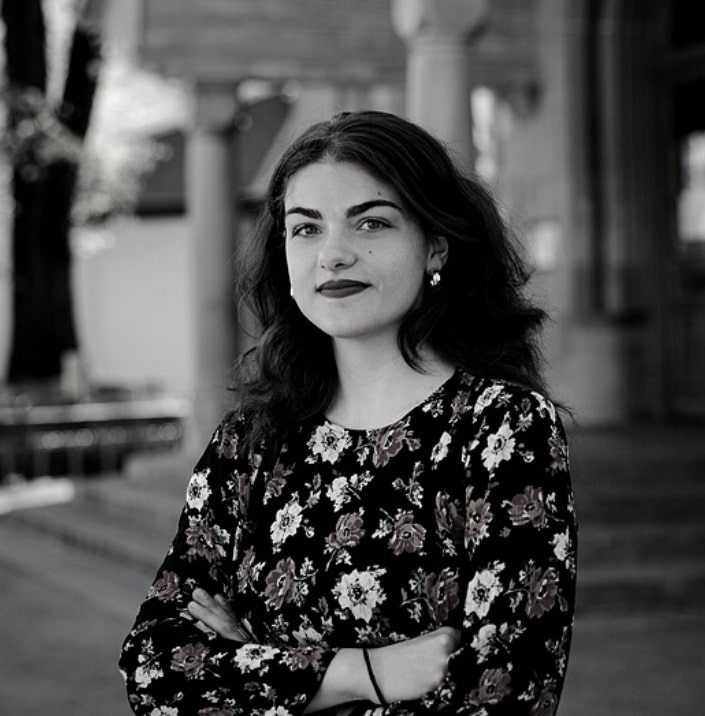 Rachele Parietti: Receiving the position of Co-Art Director was a great thrill. UFF was one of my first experiences in the film industry, when I still knew very little about it. In that August 2020 I never imagined that this moment would come! Since that 24th edition, UFF has taught me so much, both professionally and humanly. I am grateful to Vanessa and the Association for the trust they placed in Teresa and me. Surely running a Festival being so young is not at all common, but perhaps it allows us to face the challenges of organizing such an event with a bit more levity!
Teresa Mignolli:Yes, we are very excited and also very charged for this new edition of the Festival! We have been working for the Umbria Film Festival for a few years now: it is a dream and a privilege to be able to lead it. We will try our best to make a Festival worthy of its name: it has a long and important history and we want to try to respect and honor it as much as possible.
What will you bring to the Festival?
What will be the new entries and the confirmations?
RP:As every year, UFF will offer Italian premieres and previews of international films, coming straight from the most prestigious film festivals – Berlin, Cannes, Venice – all screened in original language, with English and Italian subtitles. Of course, the Key Ceremony, celebrating the artistic merits of a film industry personality, will not be missing. Also this year the youngest children will have the opportunity to approach the world of cinema with a selection of shorts dedicated to them and choose their favorite through the Children's Jury. "AmarCorti" will continue with its third edition, bringing to the public short films by young Italian directors, with a novelty: 3 Italian talents will elect the most deserving short film. We are also particularly proud to have involved the Umbria's Academies of Fine Arts, launching a call to design the poster for the 27th edition of the Festival. We look forward to seeing the new graphics on the streets of Montone!
TM:One of the highlights of this year's Festival is the program. Rachele and I are really proud of what we have managed to put together: it is very diverse, not only in terms of themes and genres but also in terms of backgrounds, in fact we will present European and non-European films and we are looking forward to showing them to the audience. We hope to be able to bring a wave of freshness and a new vision to the Festival. We have also confirmed "Amarcorti", because we think it is important to give a voice to young people who are taking their first steps in the world of Cinema. The goal is to showcase: to show the world their short films. The prizes up for grabs? Wait and see: they are incredible!
What is the formula for a perfect UFF?
RP:A schedule that stirs emotions, triggering both thunderous laughter and deep reflection: one that brings out little-known realities and stories, offering quality entertainment for all!
TM:The Umbria Film Festival is mainly made up of the people who work there: we are a group of young people who are passionate about the world of cinema. It is precisely the beautiful relationship we have and the strong bond that has been created between us that drives us to work harmoniously, creating a wonderful atmosphere. The ideal formula for a perfect UFF is just that: a group of people, where everyone cares deeply about the project, does their work with passion and takes pride in bringing good independent cinema to the public.
Did you get any advice from Vanessa Strizzi?
RP: Working closely with Vanessa Strizzi at the past three editions of the Festival has been inspiring in general. Her keen eye for industry changes and trends made us realize how important it is to make the Festival an alternative film distribution channel that is still able to communicate to the public. Thanks to her, we realized how special it is to have a platform to bring these innovations to viewers and how crucial it is to do it in an accessible way, creating an atmosphere that makes everyone feel welcome in spite of their knowledge of independent cinema.
TM:More than advice, I would say that Vanessa passed on to us a strong passion. Passion for cinema and for the Umbria Film Festival: it's thanks to her that we understood what the message of the Festival is and how important it is to bring independent films of the highest quality to Italy and to fans of art-house cinema.
RP:Of course! I'm sure this box will have the best chocolates!
TM: Ready as Frodo on his way to Mordor!